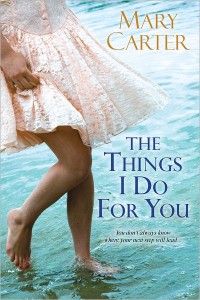 THE THINGS I DO FOR YOU
by
MARY CARTER
About the Book . . .
What happens to a marriage when a husband buys a lighthouse behind his wife's back?
Bailey Jordan has loved her husband, Brad, since they were ten years old. She's followed him on every adventure–opening a sweater store in Seattle, a café in Colorado, a surf shop in Santa Monica. Each time, she's picked up the pieces when things fell apart. But now, it's her turn. Bailey has a successful real estate career in Manhattan, and she's eager to start a family–until a car crash leaves Brad in a coma and changes their lives forever.
Awakening after his near-death experience, Brad has a new mission. He buys a lighthouse on the Hudson River, planning to turn it into a B&B. Grateful to have Brad alive, Bailey tries to make his dream her own. The lighthouse is beautiful, but the challenges–renovating, bringing in supplies by boat, navigating the locals and guests–are enormous. And then Bailey discovers a secret in Brad's past that compels her to question her husband, her marriage, and how far she'll go to keep them both. . .
Thoughtful and moving, The Things I Do for You exhibits a rare understanding of the joys, compromises, and small rebellions that lie at the heart of every marriage, and of the resilience and surprising power of love.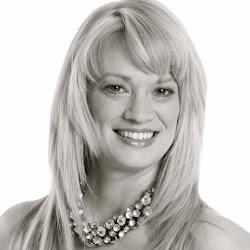 Mary Carter is a freelance writer and novelist. The Things I Do For You, is her sixth novel. Her fifth novel, The Pub Across the Pond, was July's pick of the month with Barnes and Noble online book club, and is also available as an audiobook through Blackstone Audio. Her other works include: My Sister's Voice, Sunnyside Blues, She'll Take It, and Accidentally Engaged. In addition to her novels she has written three novellas: A Very Maui Christmas in the New York Times best selling anthology Holiday Magic, The Honeymoon House in the New York Times best selling anthology Almost Home, and A Kiss Before Midnight (in an anthology collection headlined by Janet Daily) which will be out in the Spring of 2013. Mary is also excited to announce that she has started, The Writers' Den, on the Upper West Side of Manhattan where she will be teaching the exact writing course that helped her write and publish her first novel. Aspiring writers in the New York City area can go to www.themanhattanwritersden for more information.
Reader Review . . .
When Brad was clinically dead for thirteen minutes, his life wasn't the only one forever changed. The effect this had on his wife Bailey and his marriage was unimaginable. One moment she was about to be a successful Manhattan realtor, and the next moment, she was married to a man who had "been to the light". A man with secrets, and a man who apparently wanted to go back to the light, literally. The secrets Brad is keeping and the changes in his behavior threaten to tear apart the fabric of their marriage. Bailey must decide whether or not to fight to save her marriage, or just go back to her old life.
So many books are being written today regarding paranormal experiences, both fiction and non-fiction, that this should be a bestseller. Brad has the quintessential near-death experience with the tunnel of light, the out-of-body experience, the whole shebang. Combine that with Aunt Olivia who may or may not need help crossing over, a melancholy/mischievous ghost, a cast of memorable characters, romance, and a bit of mystery, and you have something for everyone. The feature I liked most was the setting. While I have never dreamed of owning a cute little B&B, the idea of a lighthouse just grabbed me from the beginning. And I must warn you: if you read in bed, or for that matter, in public, there are some laugh-out-loud moments in the book. I won't go into detail for fear of a commiting a "spoiler", but in Chapter 4, at the end of the chapter, the conversation Bailey had with the nurse caused me to laugh so loud that I awakened my husband. I volunteer here and now to review any and all future novels by Ms. Carter.
Disclosure of Material Connection: I received this book free from the publisher through the Pump Up Your Book
book review bloggers program. I was not required to write a positive review. The opinions I have expressed are my own. I am disclosing this in accordance with the Federal Trade Commission's 16 CFR, Part 255 <
http://www.access.gpo.gov/nara/cfr/waisidx_03/16cfr255_03.html
> : "Guides Concerning the Use of Endorsements and Testimonials in Advertising."