Better Than Chocolate: Life in Icicle Falls
Mass Market Paperback: 400 pages
Publisher: Harlequin MIRA (September 25, 2012)
Language: English
ISBN-10: 077831345X
About the book . . .

Sweet Dreams Chocolate Company has been in the Sterling family for generations, ever since Great-Grandma Rose literally dreamed up her first fabulous recipe. But now it looks as if they're about to lose Sweet Dreams to the bank—and that would be a disaster, not only for the family but for the town of Icicle Falls, Washington. Can Samantha, the oldest daughter and new head of the company, come up with a way to save it?
After Samantha does some brainstorming with her mother and sisters, inspiration strikes. They'll have a chocolate festival! Time's running out, but the Sterling women are determined and the town's behind them, so everything's bound to go smoothly….
Or not. Events seem to be conspiring against Samantha, and her mother's attempts to help aren't helping. To make matters worse, the fate of her company is in the hands of her archenemy, Blake Preston, the bank manager with the football-hero good looks. It's enough to drive her to chocolate. But Blake's also enough to convince her that (believe it or not) there's something even better than chocolate.
Better Than Chocolate (Life in Icicle Falls) by Sheila Roberts (book trailer)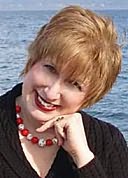 About the Author . . .
Sheila Roberts lives on a lake in the Pacific Northwest. Her novels have appeared in Readers Digest Condensed Books and have been published in several languages. Her book Angel Lane, was an Amazon Top Ten Romance pick for 2009 and her holiday perennial, On Strike for Christmas was made into a movie for the Lifetime Movie Network. You can visit Sheila on Twitter and Facebook or at her website (http://www.sheilasplace.com).
Reader Review . . .
Samantha Sterling's stepfather ran the family business into the ground before his untimely passing. Now it's up to her to

save Sweet Dreams Chocolate Company from foreclosure. It doesn't help matters that the new bank manager is good -looking enough to almost make a girl forget chocolate.
Better Than Chocolate is basically your typical romance novel. What set it apart, for me anyway, were the chocolate and winter themes. The character of Samantha at times came off as a bit sulky and difficult, but her mother was a sympathetic character, and the depiction of her as a grieving widow was honest and true-to-life. This time of year, I always love the winter and/or Christmas themed romances and anything with chocolate has to be good!
3.5 stars
Disclosure of Material Connection: I received this book free from the publisher through the Pump Up Your Book

book review bloggers program. I was not required to write a positive review. The opinions I have expressed are my own. I am disclosing this in accordance with the Federal Trade Commission's 16 CFR, Part 255 <

http://www.access.gpo.gov/nara/cfr/waisidx_03/16cfr255_03.html

> : "Guides Concerning the Use of Endorsements and Testimonials in Advertising."

 

 
*********************************************************************************
********************************************************************************
"Romance novels are birthday cake and life is often peanut butter and jelly. I think everyone should have lots of delicious romance novels lying around for those times when the peanut butter of life gets stuck to the roof of your mouth." ― Janet Evanovich